Talentos para el futuro
Talents for the future is a call for projects with a positive impact imagined by EarthTalent by Bolloré and co-built with the teams of Bolloré Logistics Mexico. This challenge rewards local associative projects and values the talent and creativity of young Mexicans who work for the environment in their country.
Apply here
Requirements:
a. Have an approach of preservation/care of the environment: it is open to all areas of this approach, and all kinds of projects can participate (water care, energy saving, sustainable construction, recycling or biodiversity, among others)
b. Involve youth in the project between the ages of 15 and 30 as most of the forces operating on the project or as the beneficiaries of the project.
c. Be a project of Mexican origin, primarily led by Mexicans.
d. Commit to working on the project for one year as we want it to mature.
e. Impact over 100 people through the project.
f. Be led by a team and sign by our ethical charter (to be added at the end of the rules of the game)
g. Agree to a three-year co-construction.
Additional Criteria:
a. Create a synergy between Bolloré and the project, as it is desirable that there be a collaboration to have an impact and benefit more people inside and outside the project.
b. Currently have a partnership and support.
c. Be in the CDMX metropolitan area.
d. Diversity and inclusion.
1. Account creation
You should then receive an email informing you of the creation of your account.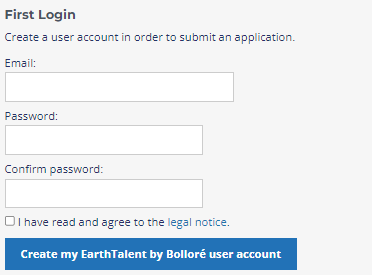 2. To login
In the "Identification" section, click the "Login" button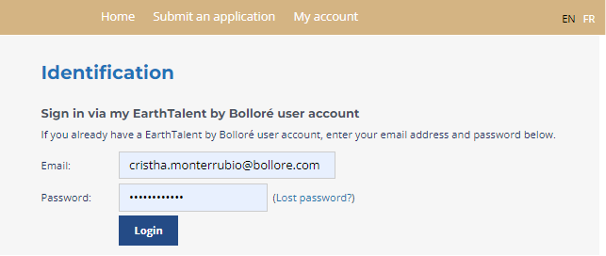 3. The form
The form will take you through 15 sections in order for it to get to know you, your project and your team; be as detailed as possible, if you have photos or videos, please feel free to submit them. In the end, you can find a summary with your answers. Share in detail the financial resources and equipment required to complete/deliver the project.
Sections:
1. Getting to know each other
2. Organization leading the project
3.Social impact and project business model
4. The project
5. Revenue and expenditure: revenue
6. Revenue and expenditure: Expenditure
7. Donations in kind
8. Geographic allocation of resources
9. Project Budget: Expenditures
10. Project Budget: Revenues
11. Transparency
12. Stakeholder Engagement
13. Nature of assistance requested
14. Visibility and communication
15. Documents to be attached
16. Summary
Follow-up plan to evaluate the project
The Earth Talent by Bolloré team offers an impact manual to evaluate the winning project.
The price depends on the financing plan, but it ranges between 5k and 10K per year. Its renewal will be possible only on presentation of the positive result in year N+1 (2024).
Indicators that will be taken into account
I. Number of youth beneficiaries/stakeholders
II. Number of environmental benefits consistent with the project (soil regeneration, biodiversity, reduction of CO2 emissions, water conservation, waste reduction, sustainable food production…)
III. Total number of beneficiaries of environmental/social actions
IV. Investment ratio per beneficiary
V. Investment ratio per environmental impact
Budget allocated to the project
The price will depend on the financing plan, as the expected range is around €10,000 per year. The continuity of the project will depend on the project's progress and financing plans.
Frequently Asked

Questions
Can I participate even if I'm not in Mexico?
Only projects carried through by associations and registered in Mexico can compete.
Can my project participate if I am already working with another company?
Yes, my project can compete under conditions of non-exclusivity with a company.
Is there a barrier if I have already competed in another contest?
No, there isn't a barrier that would prevent you from participating in another contest.
If my project only takes into account the youth theme, but not the environmental theme, or vice versa, can I still participate?
Unfortunately, no, you have to take both themes into account.
And if I don't win, what happens to my project?
For unsuccessful participating projects, they will be treated with full discretion and confidentiality.
What should I do if I am over 30 or under 15, can I participate?
We ask that the founders, the president and/or the project leader be at least between 15 and 30 years old.
Why only participants this age?
Talentos Para El Futuro program aims to support environmental projects supported by young local generations.
Earthtalent by Bolloré is the Bolloré Group's international solidarity policy for the empowerment of youth. Its philosophy is anchored in the current and pressing need to support the ambitions and dreams of the younger generation. This need responds to global economic and social challenges that must be taken into account during this period of profound change, during which the most vulnerable must be accompanied. For 15 years, this program has supported 352 projects that benefit 56,000 beneficiaries.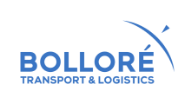 Bolloré Logistics is a highly diversified independent industrial group that ranks in the top 10 in the world of transport and logistics. We offer a full range of services and industry experience. Our solutions meet the end-to-end logistics needs of importers & exporters, in the pre- and post-production phase: transport organization, compliance with standards and customs, logistics, industrial projects and supply chain services.
Any questions ? Ask away !